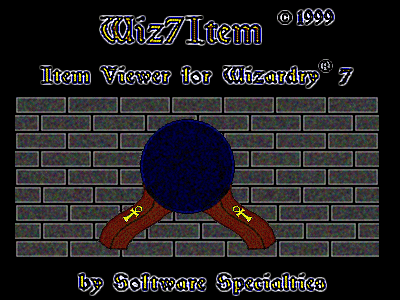 Wiz7Item© - An Item Viewer for Wizardry® 7 items
Well, beta testing is over (as of 7/31/99). I will be working on this (Freeware) product (hopfully) for the next month or two. In the mean time feel free to ask questions, provide comments, inquire, whatever .... After this product is released, if there seems to be enough interest, I may possibly consider turning it into a (Shareware) Item Editor. Boy, if that doesn't sound wishy-washy, I don't know what does :)
Download the beta version (approx. 3.1 MB)
Here are some links to a few screen shots, to give you an idea of what it looks like and what you can do with it:
Stats on the Thermal Pineapple
Searching for the best Hand protection for a Rawulf Valkyrie
Comparing Close range weapons that an Elf Monk may use to those of a Faerie Ninja
Viewing all Close range weapons that both an Elf Monk and Faerie Ninja could use
And here is a little inside information on what is currently being tested, implemented and planned for its future:
Things I will be adding
Gracefully pull the plug
Printer Support
Mask
More filter options
Things I may add
Display the "Usage" of items
Filter By Item Name
Display Item Picture
Allow sorting on any field
Develop Weapons vs. Armor and Item "Views"
Set the window size for subsequent windows
---
Here is a list of things I am planning to add to the application, but haven't got around to yet:
Gracefully pull the plug (when a problem is detected) – Currently, if the application is unable to find its database (that I supply), it shows a warning message. It then continues on and you are left in the application, but have no items to view. If the database is missing, I want to just terminate the application (gracefully).
A Detailed Item Report – This would print out you everything about the currently selected item – basically a print screen
A "Weapons" report (for lack of a better term) – This would give you all of the pertinent information about weapons (i.e. Item Name, Type, Damage Range, To Hit Bonus, Special Attacks, Spells Cast , Invoke, Modes of Attack, Primary/Secondary, ½ Hand, Depth of Attack and Regeneration – maybe more or less – it's not set in stone yet)
The ½ (baked) idea is to: either just let you make your own reports which would require using Access or Excel (or any other product that can read the database I supply – which is MS® Access 97 format) or a report writing package like Crystal Reports©

or


Allow you to build your own report, in my application. I'm not sure I'm ready to tackle this option yet. We'll see how the other report options go, then I'll know more.
Mask – This option will allow you to quickly and easily apply any filter criteria you want, without having to use the menu options. For example, if you want to know what the best Close Range Weapon is for your Female Mook Monk, you would have to select Filter by, Weapons, Close Range. Then Filter By, Gender, Female. Then Filter by … you get the picture. A lot of mouse clicks or keystrokes and trips to the menu bar. Here is how the "Mask" will work:
You'll press the "Mask" button on the Toolbar
You will be presented with a blank Item View (basically the same thing you see if you look at the very first item – "Broken Item")
Then, you can just click on the check boxes, buttons, type into the fields – whatever you want. So, in the above example, you'd click Female, click Monk, click Mook. Then to select Close Range weapons, you would need to click on Item type and Select Weapons, then click on the Item Group and select Close Range.
Then press the "OK" button and let the application do it's thing – you've got your filtered or "masked" list.
Here is a list of things I am considering adding to the application:









A more meaningful example is potions. They are items, yet they are thrown and only against the first two rows of attackers. That is pertinent information that would be left out if the weapons info was turned off.

And again there is the Item Viewer vs. Editor question to consider. Maybe you want to make a Spiked Shield and be able to use it as a secondary attack. I'm not sure I can do that (or make my program so that it allows you to do that), but it is something to consider.



If you have any comments or suggestions, please feel free to email me, using any of the links below:

Wiz7Item in General
Gracefully pull the plug
Printer Support
Mask
More filter options
Display the "Usage" of items
Filter By Item Name
Display Item Picture
Allow sorting on any field
Develop Weapons vs. Armor and Item "Views"
Set the window size for subsequent windows
Wiz7Item - other stuff